The alleged rape victim appeared shocked when death was shared in court, as Roses lawyer claimed Nadine Hernandez had told him theres no rape case here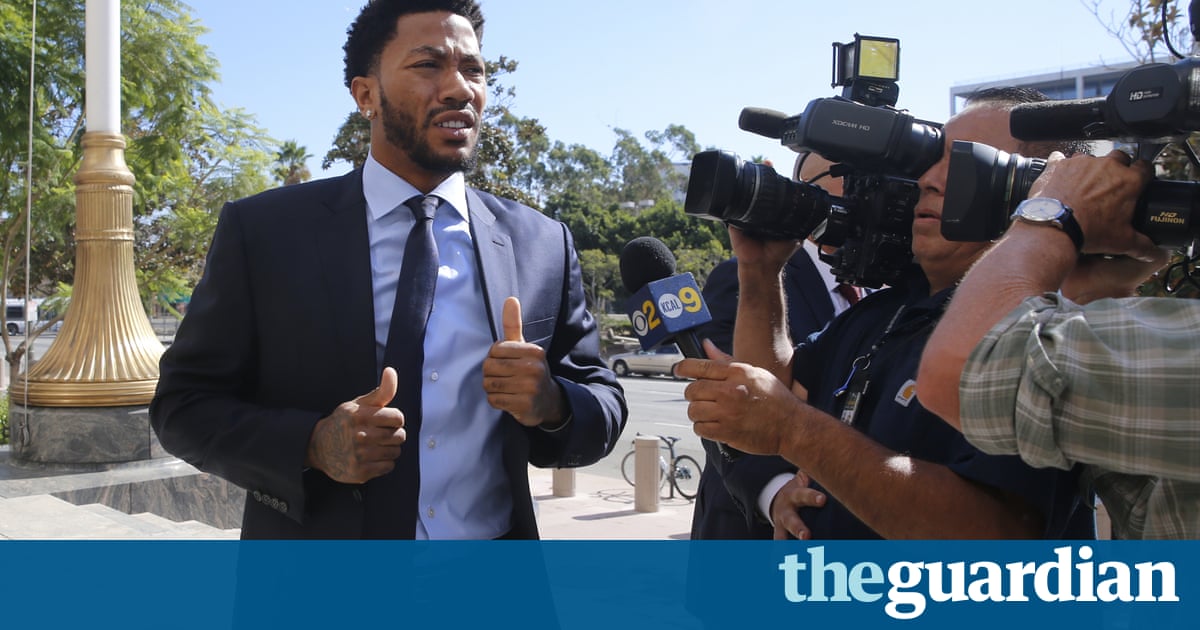 The apparent suicide of a Los Angeles police department detective who was investigating a rape allegation against NBA star Derrick Rose is a dramatic turn that has injected uncertainty into the lawsuit against him.

News that Nadine Hernandez had been found dead jolted the civil trial on Wednesday and opened a potentially new legal front in the closely watched case.
Officers found Hernandez, 44, suffering from a single gunshot wound to the chest on Tuesday afternoon in a home in Whittier, about 20 miles south-east of downtown LA, according to the Whittier police department. She was ferried to PIH Health Hospital where she died at 3.27pm.
There was no sign of foul play, a Whittier police spokesman said. This incident is being investigated as a suicide. However, this is an ongoing investigation.
The news added a macabre twist on what was already a dramatic day in the US district court where a woman is seeking $21.5m compensation for allegedly being raped by Rose and two of his friends.
The 30-year-old alleged victim, known as Jane Doe, appeared shocked when Mark Baute, a lawyer for Rose, made the announcement.
Baute, who has mounted a combative defence of the New York Knicks point guard, told the court that the detective had told him theres no rape case here and had alerted him to potentially damning texts from Doe to Rose which her lawyers had withheld from the defence.
During a break in the trial one of Does lawyers, Brandon Anand, told journalists the detective had in fact believed there was a case: She unequivocally stated that a crime had been committed. He said the detective had visited Doe at her parents home in northern California less than a month ago.
The contradictory versions added an extra layer of dispute in a highly charged trial which has shined a fresh light on the judicial systems handling of sexual assault cases.
Rose, 28, and two friends, Randall Hampton and Ryan Allen, are accused of raping Doe while she was intoxicated in her LA apartment in the early hours of 27 August 2013. The defendants admit taking turns having sex with her but say it was consensual.
Americas latest collision of celebrity and alleged sexual assault is playing out in civil litigation, not criminal trial. If the defendants lose they will be ordered to pay damages but not go to jail or have a criminal conviction. The LAPDs criminal investigation remains open, however, and Hernandez was among the officers monitoring the trial for evidence that could trigger a criminal prosecution.
The LAPD said she was one of two detectives assigned to the Rose case. At this point there is no indication that her casework had any connection to her death, a statement said. The Rose investigation will continue unimpeded.
Law enforcement sources told the Los Angeles Times the house where Hernandez was found belonged to a relative, and that property records showed it registered to a retired LAPD lieutenant.
Hernandezs involvement in the Rose case became publicly known last month when Does lawyers cited her in an attempt to protect Does anonymity. Shielding alleged rape victims identities was an an invaluable investigative aid to investigators, the detective wrote in a letter that lawyers submitted to federal Judge Michael Fitzgerald.
However the judge ruled that the anonymity granted to Doe after she filed the lawsuit last year would end when the trial began last week in the interest of openness and of not prejudicing the jury. Her name has been cited in testimony and court documents, but most media outlets have refrained from reporting it.
Lawyers for Rose, the youngest player ever to win the NBAs Most Valuable Player award, asked the judge to dismiss the case because Does legal team had withheld some deleted texts she sent Rose on the night of the alleged rape.
Judge Fitzgerald rejected the mistrial motion on Wednesday but instructed the jury of six women and two men to draw an adverse inference because of the lapse. Plaintiff failed in her legal obligation to respond fully to the lawful discovery demands. These texts could be viewed by the jury as being helpful to the defense. They are at a minimum consistent with the defenses theory of this action.
Doe and Rose had dated on and off for two years before the alleged assault. On the night of 26 August 2013 Doe went with a female friend to Roses Beverly Hills home. She became inebriated and after midnight took a taxi back to her apartment. Rose, Hampton and Allen arrived there a short time later, had intercourse with her and left. The case hinges on whether she gave consent.
In one of the deleted texts, sent at 1.36am after Doe left Roses home and before he arrived at her apartment, she told Rose her friend was angry he had not had sex with her. She was mad at me babe. Why you have me bring a bitch and you aint finna [sic] fuck her.
The defence contends Doe concocted the rape accusation to get rich.
Hampton, Roses co-defendant, testified that he and the basketball star both had sex with Doe at Roses home before the alleged rape at her apartment later. The third defendant, Allen, was due to testify later on Wednesday.
Last week Doe testified that she when she got home she vomited, passed out on her bed and drifted in and out of consciousness while the three men had sex with her. She said she woke with her dress around her neck, lubricant on her legs, a burning sensation between her legs and condoms around the bed.
Read more: https://www.theguardian.com/us-news/2016/oct/12/derrick-rose-rape-trial-los-angeles-detective-suicide