Carlos Santana homers off 20-game winner JA Happ and Francisco Lindor has RBI single to lead Cleveland to Game 2 victory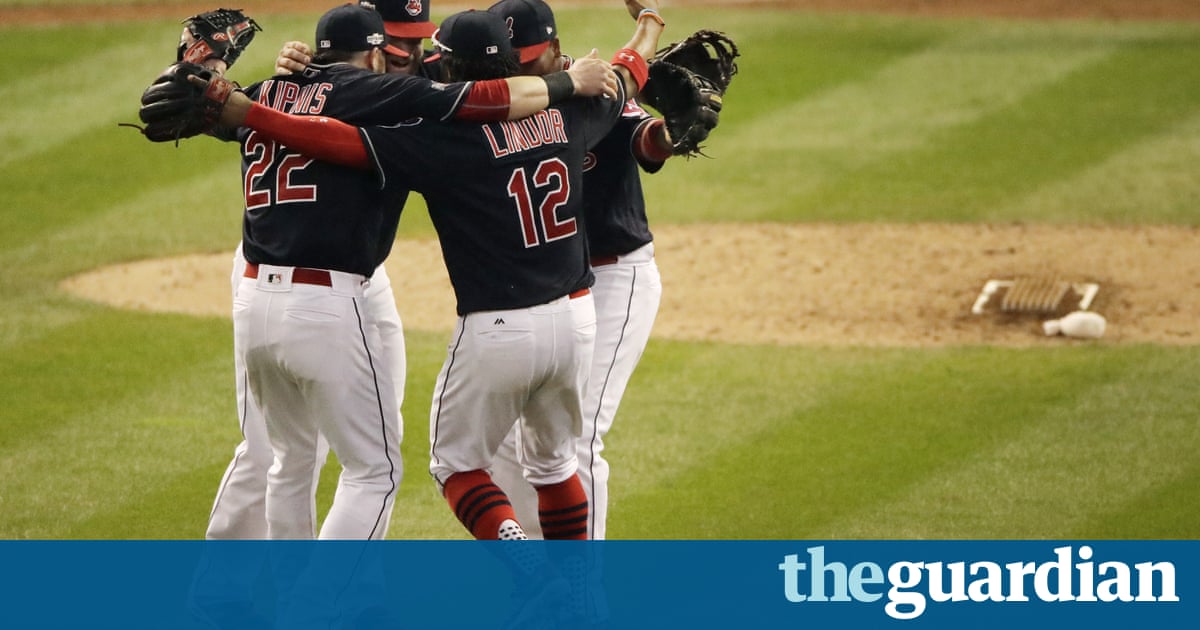 Josh Tomlin baffled Blue Jays batters for nearly six innings and Andrew Miller blew them away as the ClevelandIndiansedged Toronto 2-1 on Saturday to take 2-0 lead in the AL Championship Series.
Carlos Santana homered off 20-game winner JA Happ and Francisco Lindor had an RBI single for theIndians, who have won five straight postseason games for the first time in their 116-year history.
An afterthought in August, Tomlin has emerged as an unlikely October star for theIndians. He allowed one run and three hits in 5 2/3 innings before Cleveland manager Terry Francona called on his bullpen led by the magnificent Miller, who is making the Blue Jays look like Little Leaguers.
The lanky left-hander struck out the side in the seventh, two more in the eighth and has 10 strikeouts in 3 2/3 innings in the series. He has not allowed a run in 16 career postseason innings.
Cody Allen struck out Edwin Encarnacion and Jose Bautista in a perfect ninth for the save, finishing a three-hitter. TheIndianshad never been up 2-0 in four previous ALCS trips.
After bludgeoning Texas in the AL Division Series by hitting eight homers and scoring 22 runs, Toronto has one run and 10 hits eight singles and a pair of doubles in two games against theIndians.
Bautista is 0 for 6 in the series with five strikeouts and in a 0-for-14 postseason tailspin. The only bat flipping Joey Bats has done is back into the rack.
The series heads north to Torontos raucous Rogers Centre for Game 3 on Monday with Clevelands Trevor Bauer slated to face Marcus Stroman.
Tomlin originally was scheduled to pitch Game 3, but the right-hander was pushed up after Trevor cut his right pinkie while repairing one of the drones he enjoys flying as a hobby. The 31-year-old Tomlin pitched himself out of the rotation by going 0-5 with a 11.48 ERA in August, but injuries to Carlos Carrasco and Danny Salazar gave him another chance and hes made the most of it.
Tomlin, who ignored taunting Boston fans to close out the Red Sox in Game 3 of the ALDS, relied on his curveball to keep the Blue jays guessing.
With some help from Happ, theIndianstook a 2-1 lead in the third on Lindors RBI single.
Rajai Davis reached on a fielders choice, stole second and took third when Happs pitch bounced in the dirt and rolled a few feet away from catcher Russell Martin. One out later, Lindor lined his single to center for this third RBI in two games, another clutch moment by a 22-year-old with the presence of a 10-year veteran.
Tomlin had the Blue Jays off-balance and guessing with an assortment of breaking pitches nothing harder than 75mph before Toronto finally pushed across its first run of the series to tie it 1-1 in the third.
Darwin Barney, starting at second in place of the injured Devon Travis, singled with one out, moved up on a groundout and scored on Josh Donaldsons opposite-field double, his sixth of the postseason.
Tomlin walked Encarnacion, and with reliever Jeff Manship up in Clevelands bullpen just in case, he struck out Bautista, who remains in a funk.
Santana gave theIndiansa 1-0 lead in the second with a lined homer that barely cleared the 19-foot-high wall in left. The switch-hitter, who batted leadoff in Game 1, yanked a 1-1 pitch for his first postseason homer and the first allowed by Happ in five starts.
Trainers room
Travis is done for the postseason with a right knee injury he aggravated during Game 1. After missing two games in the ALDS with a bruised knee, the Blue Jays put him on the roster but he jarred his knee while covering first base in the fifth inning and left in pain. Toronto was granted a roster substitution by Major League Baseball and replaced Travis with first baseman Justin Smoak. Travis would not be eligible for the World Series if the Blue jays advance.
Up next
Blue Jays: Stroman allowed one run in both of regular-season starts no decisions against Cleveland, posting a 1.29 ERA and 15 strikeouts in 14 innings. He struck out six over 6 2/3 innings at Rogers Centre on 1 July, and had nine Ks in 7 1/3 innings on Aug. 21 in Cleveland.
Indians: Bauer was superb in two outings against Toronto, going 1-0 with a 1.38 ERA and 16 strikeouts. Scheduled to start the following day, he came on in relief and pitched five scoreless innings in Clevelands 2-1, 19-inning win 1 July, the last win in theIndians franchise-record 14-game streak. Bauer struck out a career-high 13 in an eight-inning no-decision at home against the Blue Jays on 19 August.
Read more: https://www.theguardian.com/sport/2016/oct/15/indians-blue-jays-alcs-game-two