Dunbartonshire childs death and 20 non-fatal cases have been linked to a blue cheese from Lanarkshire by food safety officials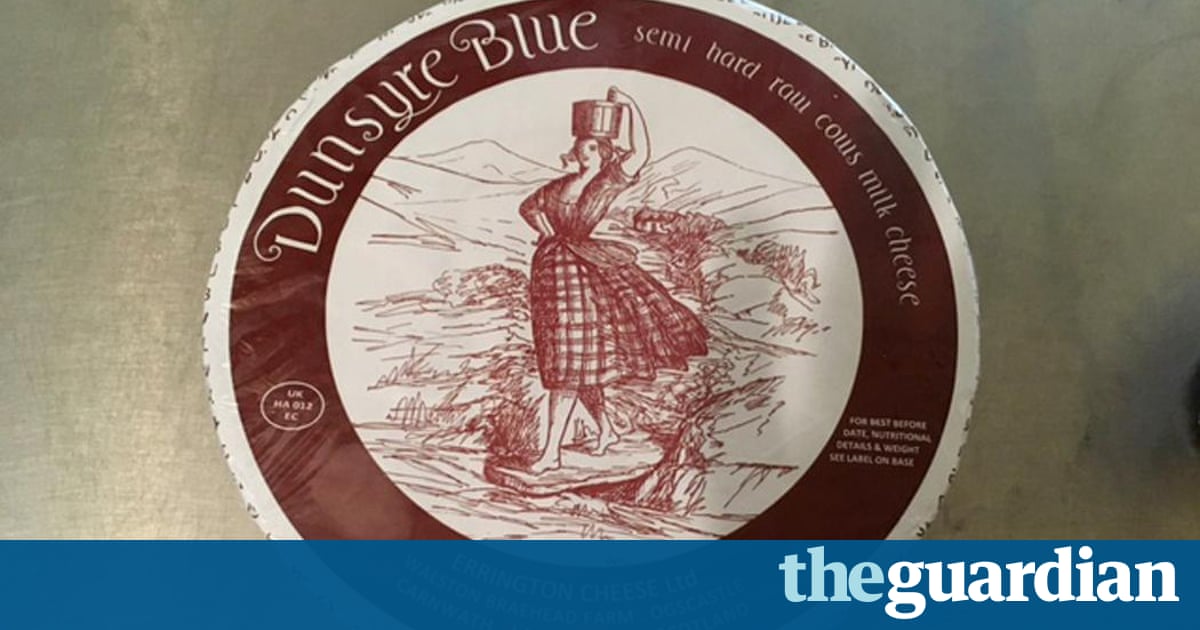 Scotlands food safety authority has issued a complete ban on the sale of all cheeses made by a firm implicated in the death of a three-year-old girl in an E coli outbreak.
Food Standards Scotland (FSS) said on Wednesday that every brand of cheese made by Errington Cheese, an artisan maker that uses unpasteurised milk, had to be taken off sale by all shops, restaurants and wholesalers after the bacteria was found in a number of cheeses.
It said Errington, which had pioneered a revival of artisan cheese making in Scotland in the 1980s and 1990s, had failed to take all its products off sale voluntarily.
The alert has been issued to all 32 Scottish councils and would routinely be issued UK-wide.
The FSS said it had sent out immediate instructions to withdraw from sale all cheese produced by Errington Cheese Ltd currently in distribution and to withhold from sale any cheese not yet on the market, as these products are a potential risk to consumers health.
Both O157 and non-O157 strains of E coli have been detected in a number of different types of cheese produced by Errington Cheese Ltd.
The order, which the firms owners believes will force them out of business, comes after the FSS banned two batches of one of the best known Errington brands, its Dunsyre Blue, from sale last month.
The agency linked it to E coli O157 cases in 20 people and in the death of a three-year-old from Dunbartonshire. It admitted, however, it had no direct proof that Dunsyre Blue was to blame but was relying on epidemiological evidence.
On Saturday, it said traces of E coli O157 were found in Erringtons Lanark White brand and ordered two batches to be withdrawn.
The FSS followed up with an inspection of Erringtons factory near Carnwath in South Lanarkshire on Tuesday, taking away samples of various cheeses.
Errington has insisted its own programme of rigorous testing has found no trace of E coli in any of its cheeses: it had the Lanark White batches identified by the FSS on Saturday tested by two separate laboratories and cleared by both.
Humphrey Errington, the companys founder, said he and his daughter Selina Cairns, who now runs the firm, were absolutely horrified by the agencys decision. He said the FSS had linked two recent fresh poisoning cases to their products, which the agency said that had justified its far tougher action.
His daughter had been given 15 minutes by the FSS to agree to a voluntary recall on Wednesday but Errington said the family had refused to do so because senior microbiologists they had consulted said the FSS evidence against them was just piffle.
I have spoken to some of the most senior microbiologists in Britain and they say that theres absolutely no evidence offered to us of pathogenicity in any of our cheeses. Weve submitted a huge bundle of stuff to microbiologists and that is their view. They have told us we should not agree to a recall, Errington said.
This total ban now involves all six ranges of Errington Cheese, including three previously unaffected brands: its signature brand Lanark Blue; Maisies Kebbuck, a hard cows milk cheese; and Cora Linn, a hard sheeps milk cheese.
Read more: https://www.theguardian.com/world/2016/sep/14/scottish-firms-cheese-is-withdrawn-after-three-year-old-girl-dies-of-e-coli